Meet — Meeting Day — Workshops en Masterclasses — Weesper Philosophical Circle — QFWF Video-channel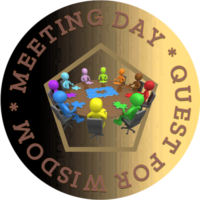 The QFWF organises an annual Meeting Day in which a social theme is central and serves as a springboard for questions about the intercultural art of living and is then brought into dialogue through philosophical, spiritual angles and artistic expressions.
History
On February 12, 2016: as a prelude to the start of the foundation, we presented a digital game form with wisdom from all over the world: the digital game Quest for Wisdom in the Weesp Library.
On December 22, 2016: the QFWF founding party initiated a playful presentation of the objectives of the Quest for Wisdom Foundation and the relevance of the philosophy of member of honour Dirk De Wachter (NL).
In addition, 'the cat' and 'the lantern' ― in a small dialogue with the aid of the symbolism on the dialogue table ― was chosen as symbols for the year 2017.
On June 23, 2017: a Meeting Day on the theme of boundaries, walls and a space in between, with the festive announcement of the launch of the Wisdom Web.
An impression of the day can be seen in a video by Jeffrey Mohammad van der Velde and Tycho Muijen.
On November 24, 2018: a Meeting Day on the theme of Intercultural Celebrations and Rituals under the motto "Bárðarbunga and the Zeitgeister". A video of the day was made by Antoinette Hijstek.
On September 7, 2019: a Meeting Day about storytelling on the rhythm of life, crossing the borders of cultures and media with a musical opening by Mitra Muijen. Look for an impression on the QFWF-video-channel (NL)and the programme: Ontmoetingsdag 2019 (NL)
The QFWF Meeting Day on September 17, 2020 was extra meaningful against the background of the tightened corona measures and Buber's statement, "All real life is meeting", became a living experience. The QFWF development team presented cross-cultural perspectives and forms of storytelling around the wisdom of snakes: the Animal Wisdom Programme (NL) consisted of art, music, intercultural dialogue and stories! François Reincke made the visual impression on the QFWF-video-channel
On October 2, 2021, the Meeting Day was all about the launch of the third QFWF website Animal Wisdom the fifth anniversary of the QFWF. In the atmospheric location in the Plofhuis near Fort Uitermeer on the Vecht, on offer was dance, music, images and philosophy centred around the theme Birds Wisdom (NL) for harsh times.
François Reincke made the visual impression of all the artistic contributions to the programme.
QFWF Annual Meeting Day Group
In an annually changing composition, a group of QFWF stakeholders develops the programme and organization of the annual Meeting Day.
Update 2022-07