Know yourself — Gnosis Game — Masquerade Game — Hero Game — Compassion Game — Dream Game — Vision game
Play yourself in the mirror of an inspiring role model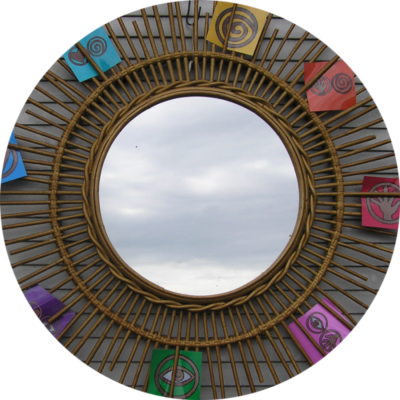 SPlayers look in the Mirror of Life with their own heroes and favorite fairy tales. What motivational figure or story do you remember from your childhood? Is there a living hero that inspires you right now? Following the path of an inspiring person (a living, legendary or fictional hero or heroine) in the game enables players to (re)orient themselves on their own path of life.
ISBN: 978-90-822774-6-3 — Heldenspel: speel je zelf!
Dynamic Game for discovering your motives and drives by following the way of living of your hero
Duration: two half-days, for 3 to 6 players.
Playing Materials
Box contains: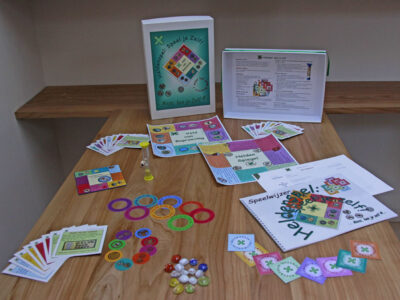 Playing fields:
1 Mirror of Hero's;
1 Field of Ordeals
Playing attributes:
1 Six Colours Dice;
1 Sand Glass;
8 Quintessence drops;
2*4 Elements of Happiness;
1 CD Dream travelling and Heroic Dreams (Droomreizen en Heldendromen) with 22 songs
Playing Cards and Tokens:
8 Cards with Principles of Happiness;
8 Cards with Weapons;
8 Cards with Magical Helpers;
8 Tokens with symbols of power of the way chosen;
8 Rings with Hope and Fear;
8 Tokens with Quintessence Qualities
Working Materials:
1 Instruction Guide with
8 Fill-in form for the exercises in the game
Purchase: Hero Game
Inquire and purchase: info@questforwisdom.org.
Live-give, a rap from Henry Muldrow — Stichting Culturele Droomwevers! Listen:
Read (NL): Heldenspel-workshop
---
Hero Game Outdoors: Play Yourself!
Outside in nature or inside in a special location
ISBN: 978-94-92127-01-3 — Heldenbuitenspel: speel je zelf!
Outdoor Hero Game for teambuilding as well as for developing personal and collective values
Duration: two half-days, for 6 to 16 players, for groups of up to 24 players per team.
Also as activity for children!
Playing Materials
Comparable to the Hero Game
The Hero Game taps into the power to dream about life.
I dreamed I was a butterfly …
or maybe I am a butterfly dreaming of … ?
Inquire and purchase: info@questforwisdom.org
Update 2022-07