Know yourself — Gnosis Game — Masquerade Game — Hero Game — Compassion Game — Dream Game — Vision game
Wisdom for tuning your inner compass
In a preliminary round, players become acquainted with the symbolism of the natural elements and the philosophical art of living as the basis of the game. This is expressed on the cards and playing fields with pithy sayings, such as those of Herakleitos of Ephesus (in present-day Turkey, around 600 BC):
Boundaries of the soul you will not find, however far you go and whatever road you walk, so deep is its ground.
Players choose a game leader from among themselves who will lead the tour group through the game using the Game Guide. Then the journey starts with the five game rounds on the game board and a final (seventh) afterplay round, in which players harvest from the game.
Each round of the game allows players to reflect on an important theme of the philosophical art of living. The game counsellor encourages the players to reflect on their own life themes and questions, enriched by the philosophical and mythical perspectives on the playing cards. As a result, philosophical insights come to life and personal themes are deepened in a dialogue with each other.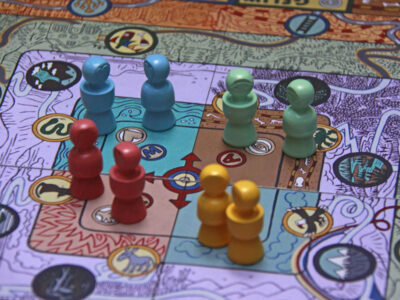 After each game round with dialogic exchange around mythical and philosophical perspectives, players express and imagine their own vision of the (life) theme that has been raised. Rolling the dice leaves players interested in a situation, symbolic of being 'thrown into life'. Conducting a dialogue with each other is an exercise in giving meaning to life and being aware of the scope for designing life as a work of art according to the philosophical art of living. The symbols on the game board invite to associative thinking and thus to confront one's own view in a playful way and to make a connection with questions in life.
At the end of the journey across the game board, participants have visualized and expressed their own vision on the themes addressed on the Game Form.
Tune your inner compass and develop your vision in life by means of the philosophical art of living!
ISBN: 978-90-822774-9-4 — Levensvisiespel: stem je innerlijk kompas!
Wisdom game for developing the art of living by tuning your inner compass.
Duration: 3 to 9 half-days, for 3 to 8 players.
With a multitude of game material also applicable for groups and teams of up to 24 people: in work contexts to empower and develop ethical perspectives on working issues and to get acquainted with a philosophical art of living.
Playing materials
Box containing:
Board game, Playing fields, Overview:
1 Board game of the Art of Living;
1 Playing field Philosophical Compass;
2 Playing field Alchemie of Collaboration;
2 Playing field Ethical Perspectives;
1 Overview Tokens of Qualities
Playing Cards and RIngs:
2*32 Cards of Rounds;
20 Cards of Elementaire Way's;
6 Rings with Moral Motives;
24 k Cards of Destiny
Working materials:
1 Instruction Guide with
8 double Fill-in form for the exercises in the game 'Research form' en 'Visualizing my life vision';
Tokens with elementary qualities:
4*4 Course in life (green, red, yellow and blue);
4*4 Education (green, red, yellow and blue);
4*4 Reflection (green, red, yellow and blue);
4*4 Crisis (green, red, yellow and blue)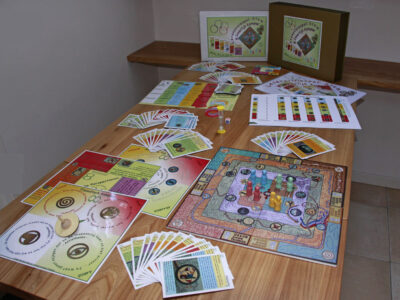 Playing attributes:
1 CD Dream travelling and Heroic Dreams (Droomreizen en Heldendromen) with 22 songs;
1 six coloured dice;
1 whirlabout;
1 hourglass (of about 3 minutes)
Playing figures:
2 green, 2 red, 2 yellow and 2 blue Playing figures with symbol; respectively eye, hand, head and heart
Inquire: info@questforwisdom.org
Read more (NL): Levensvisiespel-workshopcyclus 
Update 2022-07