Know yourself — Gnosis Game — Masquerade Game — Hero Game — Compassion Game — Dream Game — Vision game
Elementary wisdom to reflect on happiness through the philosophical art of living
The Gnosis game encourages players to explore their own views of life and happiness in life and to give them shape through words and images.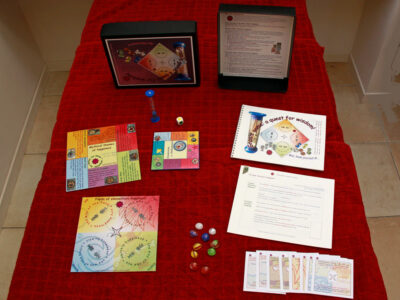 The word gnosis is an ancient Greek word for wisdom associated with self-knowledge. With this game you develop your knowledge about the full life from within.
Against the background of classical concepts on the art of living and mythical themes, players conduct a dialogue about the meaning of a personal moment of happiness and reflect on their own life orientation. How could your view on happiness be enriched? This game offers classical perspectives on the art of living by being aware of the tragedy and shadow sides of life, to develop a vision of the full potential of the happiness of life!
ISBN: 978-90-822774-8-7 — Gnosisspel (NL) Quest for Wisdom!
The Gnosis Game offers the basic explanation of the game concept Know Yourself, specifically the Dream Game (Droomspel): Follow your Wish!
Duration: half a day, for 3 to 6 players.
ISBN: 978-94-92127-00-6 — Gnosis Game (EN) Quest for Wisdom
English version: Gnosis Game: a quest for wisdom
Dynamic game based on the philosophy of the art of living to facilitate dialogues on inclusive happiness to enrich your personal view on happiness in life
Playing Materials
Box contains:
Playing Fields:
1 Elementary Directions to Happiness;
1 Mythical Red Thread
Playing Attributes:
1 hourglass (about 2 minutes);
1 six colour dice;
2*5 Elements of Happiness;
1 CD Dream travelling and Heroic Dreams (Droomreizen en Heldendromen) with 22 songs
Playing Cards:
2*5 Cards of Elementary Paths
Working Materials:
1 Instruction Guide with
8 Fill-in form for the exercises in the game 'My Way to Happiness'
Overview:
of the steps in the game on the bottom of the box.
Update 2022-07