Know yourself — Gnosis Game — Masquerade Game — Hero Game — Compassion Game — Dream Game — Vision game
Pillar 1 Know Yourself — the Mythical-philosophical Board Game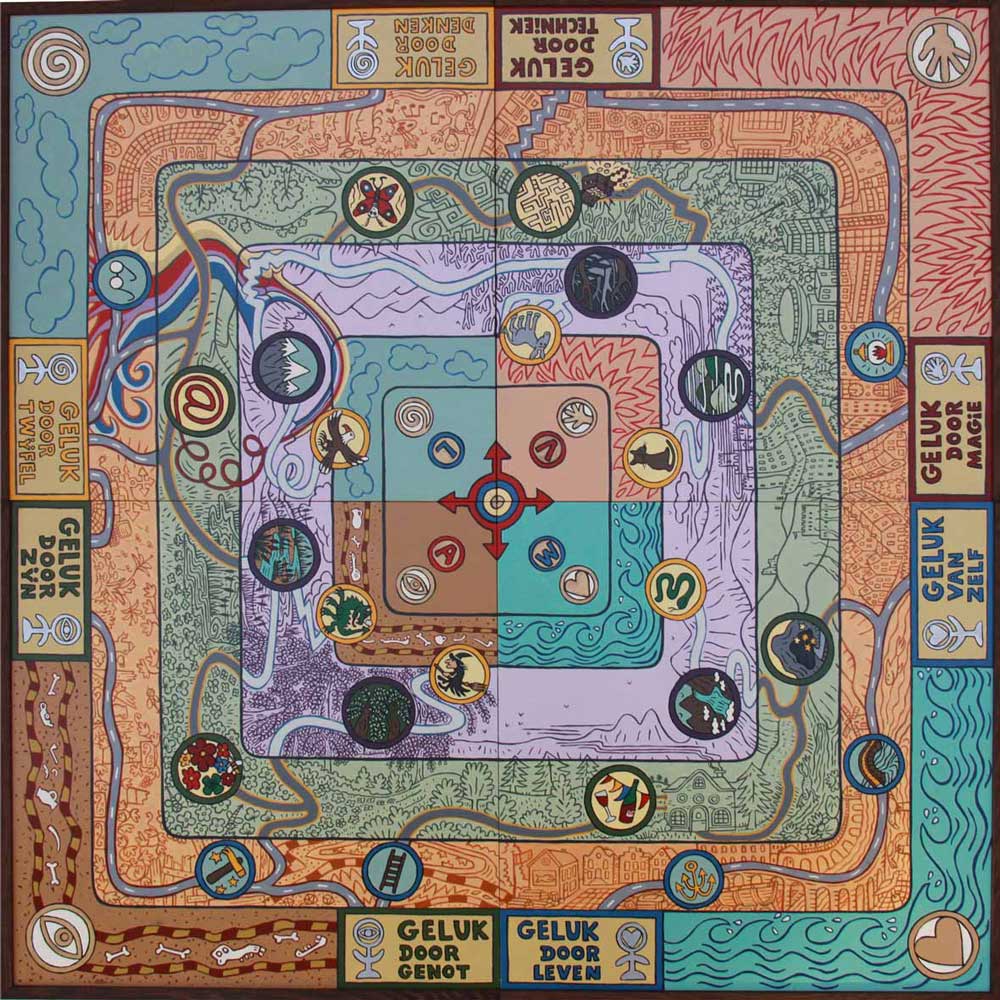 Know thyself is a mythical-philosophical game concept.
The game board consists of five circles, corresponding to themes and game rounds. In total there are seven game rounds, with an intake round and a finishing round. Each round is dedicated to a particular theme of the art of living ― such as authenticity, ups and downs in life, how to deal with crises, meaningful encounters and finding your destiny ― helping the participants to find a good course in their (working) life.
A journey through a landscape full of images of happiness and tragedy
With a small group ― family or friends, work or sports team ― you make a journey through the landscape of images on the game board, which is full of symbolism and philosophical perspectives on the art of living, and the tragedies and happinesses of life!
Although each participant makes the journey across the game board individually, with their own choices determining their path in the game ― just as everyone undertakes the life journey alone ― you still travel together as a group. The dialogues with each other and surprising perspectives on the Playing Cards and Playing Fields stimulate thinking outside the box and help the players to find a good course in their own (working) life.
Variants of the Board Game Know Yourself
Playful exercises for the art of living
Around the board game there is space for meeting and fun, wonder and discovery.
There is space for the playful exercises in the philosophical and practical art of living: the art of giving meaning to life!
The art of living is the art of 'becoming who you truly are', through encounters and dialogues as crucial ingredients! These you will cocreate in a small group around the board game on your mythical-philosophical journey, by finding your way through the labyrinthine landscape.
Given the complexity of Knowing Yourself, the game concept has been thematically developed into five smaller game forms; There is also a philosophical variant, in which the mythical and philosophical backgrounds are elaborated upon in the Instruction book and on the Playing Cards.
Thematic mythical-philosophical games:
The different forms of the board game Know Yourself are suitable to play in a small group, guiding you with the help of the extensive Game Instructions or under the guidance of a QFWF counsellor.
Purchase: Wisdom Shop
Inquire and purchase: info@questforwisdom.org.
Purchase of Educative Materials
One hundred percent of the money raised by the sale of all of the products will be used in realising our upcoming QFWF educational projects, all of which are non-profit and run by volunteers.
Update 2022-07