Playful Dialogues — Dialogue Table  — Playful Dialogue Table — Quintessence Play — Quest Play — Pythia Play — Existential Play
Exploring an important issue as your quest!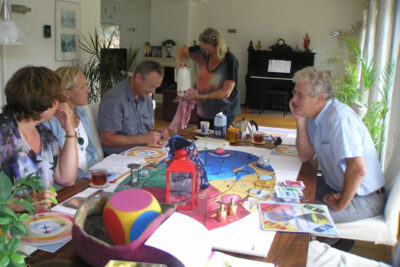 With a small group (of up to ? players) gathered around the Dialogue Table (board game version) you explore one main issue which serves as the place of destination while on your mutual quest. The issue can be both something that puzzles and stimulates people either individually, or as a group, team, or family.
The images on the dialogue table function as symbolic signposts on a journey from the outside to the core of the Dialogue Table, representing the essentials around the issue at stake: that is the polyphonic and layered meanings that each player extracts from the dialogue.
The symbolism elicits a language of the soul, as players practice the art of listening and authentic responding. The dialogue playing rules help to install an open-hearted atmosphere in which everyone dares to speak out freely and in their own unique way.
The materials offer both structure and symbolism that is appealing to participants and gives them an opportunity to voice their intuition through the power of their imagination.
ISBN: 978-90-822774-3-2 — Beeldendialoog: een kwestie als queeste!
Playful Intercultural Dialogue Table, dis-covering an issue on your quest.
Duration: one (half) day, in a small group for around 8 players.
Playing Materials
Box contains: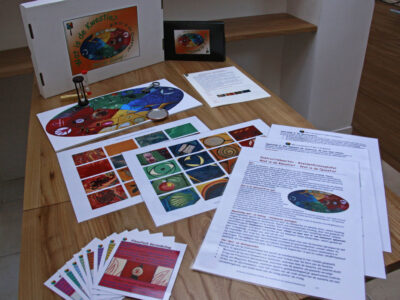 Dialogue Guide with 5 instruction Cards A3
Playing Field:
1 Dialogue Table (board game version)
Playing attributes:
Rich objects: mirror, key, hourglass, weights of metal;
1 quintessence crystal ball;
1 small talking stick;
1 hourglass of approximately 5 min. as timer for dialogue rounds
1 colour dice
Playing Cards:
8 Philosophical Tools European Perspectives
Extra set of 8 cards with Intercultural Perspectives
Working materials:
8 Fill-in forms for the exercises in the dialogue consisting of 32 symbols
Inquire and purchase for the revised edition Four Winds
info@questforwisdom.org
Update 2022-07