Playful Dialogues — Dialogue Table  — Playful Dialogue Table — Quintessence Play — Quest Play — Pythia Play — Existential Play
Dialogue on existential questions with ethical perspectives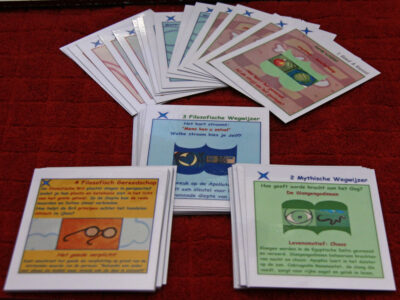 The Existential play introduces philosophical and mythological perspectives for conducting a moral dialogue within a small group. In a preliminary round, one chooses who will guide the game as a dialogue facilitator. All other participants enter the game with their chosen personal dilemma, existential question or theme in life and/or in their career.
The game and dialogue facilitator ensures that in each round everyone's problem, theme or question is addressed. At the same time, there will be a collective dialogical exploration in which players ask each other in-depth questions and reflect on the different symbols in the game that are linked to mythological and philosophical narratives.
During the four dialogical rounds, the players enrich their insights to the question or theme at stake, as well as critically examine their normative beliefs on the basis of:
the philosophy on the art of living and the good life
the morality of obedience versus the ideal of mastery in life
the morality of autonomy and makeability of life
the existential loyalty to oneself and the ability to play with a plurality of perspectives
By examining your theme in the game as a moral issue, you are introduced to ethical perspectives in a playful manner. Playing the game will not provide a univocal answer, but rather, players will spin off their problem, theme or question as a moral thread on life's journey.
ISBN: 978-90-822774-4-9 — Existentiespel: volg je weg!
Duration: one (half) to one full day, for 4 to 6 players.
Playing material
Box contains:
4 Playing fields in the instruction guide:
1 Elementary happiness;
1 Existential motives;
1 Temple of moral riddles;
1 Inner compass;
Playing attributes:
1 colour dice;
1 hourglass of about 5 minutes;
1 whirl about
Playing cards:
2*8 Good and evil;
2*8 Mythical signs;
2*8 Philosophical signs;
2*8 Philosophical tools
Working materials:
1 instruction guide with dialogical exercises and
8 Fill-in forms (double sided)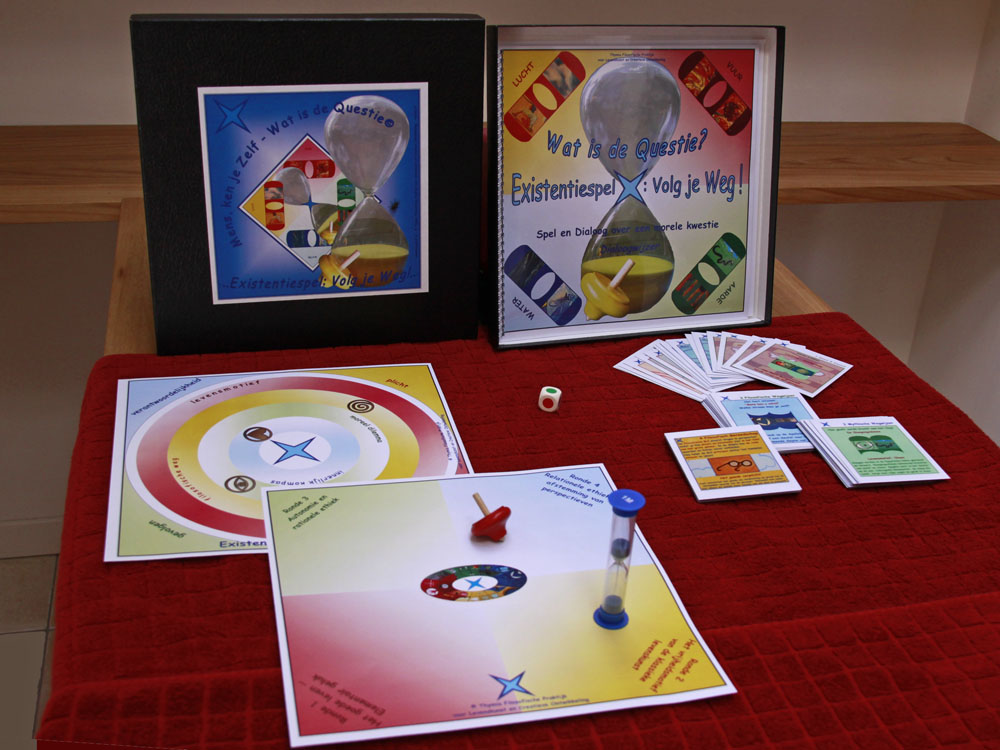 Inquire: info@questforwisdom.org
Update 2022-07