Description of the Game concept Man, know yourself and of the Gnosis game: a quest for wisdom!
Man, know yourself and master classes for game masters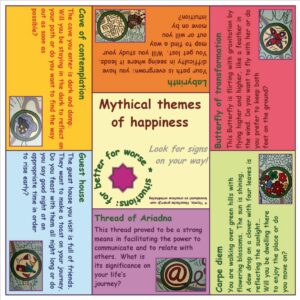 The overall title Man, know yourself refers to the famous words on Apollo's temple that marked the beginning of the western wisdom tradition in Greece about 600 BC: the fame of Apollo's oracle in Delphi stretched beyond the borders of the old Greek Empire. The importance of self knowledge as a way to include ethical and spiritual dimensions in the way we develop and use knowledge is at the heart of the game concept Man, know yourself.
The concept encompasses workshops and master classes with different games that are centred around themes of life, such as the theme of happiness and tragedy in the Gnosis game. Other themes are the competence of playing with social masks, questions around re-orientation in life and career as the art of reading signs on your journey in the labyrinth of life and research as a quest from the outside to the heart of a matter in developing knowledge from within.
The art of living and happiness
This is a dynamic game based on the philosophy of the art of living to facilitate dialogue between players who are motivated to focus on personal growth, professional development and team building.
It draws upon a number of familiar game techniques and the game's resources include dice, sand glass and top, board, cards and pawns. In addition, the participants, by using creative and rhetorical means, give symbolic significance to their own life's journey through the landscape of happiness (an exercise in the art of living).
Through playing the game and sharing dialogue with each other the participants discover how to control their lives and careers from within and how they relate to the tragic side of life…
There are several forms of the game designed for various purposes, according to the needs and potential of the participants.
The Gnosis game: a quest for wisdom! uses the theme of happiness by reflecting upon each player's idea of happiness in the light of the philosophy of the art of living. The game concludes with each participant conveying his or her interpretation of the theme of happiness, both verbally as well as in art form.
The Gnosis game design has been extended with intercultural perspectives in the digital game Quest for wisdom
ISBN: 978-94-92127-00-6 — Gnosis game: a quest for wisdom
Dynamic game based on the philosophy of the art of living to facilitate dialogues on inclusive happiness
English version
Please contact!
People who are interested in using dialogue and elements dialogue and play, constructive elements of the homo ludens in their work (training, coaching, managing, advising, therapy, …) they are welcome to contact Heidi Muijen who organises master classes in small groups: info@questforwisdom.org.